Fossil Insects and Plants
of the San Joaquin Valley
Although insect and plant fossils are rare in the San Joaquin Valley, some do turn up from time to time. The buttons below lead to photos and descriptions of the insect and plant fossils that you are most likely to encounter in the valley.
---
Fossil Insects
of the San Joaquin Valley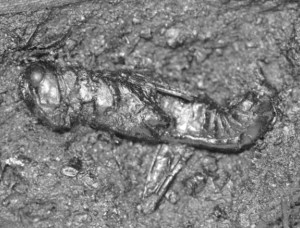 A fossil grasshopper (Melanoplus differentialis)
from the McKittrick tar pits

More insect fossils of the San Joaquin Valley
| | |
| --- | --- |
| | Water Beetles - The most common fossil insects by far that are found preserved in the McKittrick and La Brea tar pits are water beetles, many of the genus Hydrophilus. Apparently water beetles do not detect the presence of water by smell, as do most animals. Instead water beetles identify water by the way it reflects light, and tar reflects light in exactly the same way. Thus, water beetles flying over a tar pit would have mistaken it for a pond, and became trapped when they tried to dive into the tar. Although the hand sample on the left is from the La Brea tar pits in the Los Angeles area, fossil water beetles are also abundant in the McKittrick tar pits of the San Joaquin Valley. |
| | Insect Burrows - The non-marine Pleistocene Tulare Formation of the San Joaquin Valley contains a variety of insect burrows, including Adhesive Meniscate Burrows, such as the example shown in a core sample on the left, and Palaeophycus burrows, such the example shown in the core sample on the right. Both cores are from the EXF 376T well at Midway-Sunset oil field. |
Fossil Plants
of the San Joaquin Valley
The most common plant fossils found in the San Joaquin Valley are spores and pollen, both of which are known as palynomorphs. These are described further under the section on microfossils. However, leaf imprints, and the imprints of kelp and seaweed are also found. Below is an example of a seaweed imprint that was found in an outcrop of the Monterey Formation on the coast of California. Similar specimens are found from time to time in the valley as well.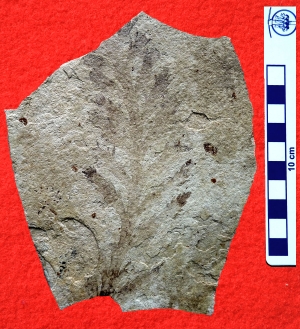 Fossil seaweed from the Monterey Formation

More plant fossils of the San Joaquin Valley
| | |
| --- | --- |
| | Conifer - This fossil shows the petrified branches and needles of Margeriella cretacea, an ancient conifer from the days of the dinosaur. It was found in the Cretaceous Moreno Formation in the Panoche Hills to the west of Fresno. |
| | Leaf Imprints - Several of the non-marine formations in the San Joaquin Valley have leaf imprints, and fossil leaves are found in some of the marine units as well from time to time, particularly in deltaic deposits. The example on the left is from delta deposits in the Eocene Cozy Dell Formation in the Sepse Gorge area of the California Transverse Ranges (south margin of the San Joaquin Valley). |
| | Petrified Wood - Though not particulary common, petrified wood is found in some of the rocks of the San Joaquin Valley. The example on the left is from lake delta deposits in the Miocene Piru Gorge Sandstone (Ridge Route Formation) exposed along the Old Templin Highway in the California Transverse Ranges (south margin of the San Joaquin Valley). |
| | Seaweed Imprints - Kelp and seaweed, which are also known as fucoids can create impressions that sometimes show up in the Santos Shale outcrops in the Temblor Range on the west side of the valley, and in the Eocene Cozy Dell Shale and Miocene Monterey Shale (see above) in other parts of the state. It also turns up from time to time in core samples as well. The example on the left is a seaweed imprint in the Cozy Dell that was collected in the Sespe Canyon near Fillmore in the northen Ventura Basin. The photo on the right shows a seaweed imprint in a core of the Miocene Santos Shale from the KCL8-B1 well at Wasco oil field. |