Click Here for Senteur's Photo Album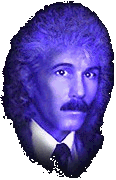 Jean B. Senteur de Boue has been an esteemed member of the San Joaquin Geological Society and the Pacific Section of AAPG for many years. Educated at the University of Lyon, Monsieur de Boue's name in French loosely translates to "Mud Sniffer".
Rumored to have begun his career at Oceanic Oil Company during a lull in industry activity, Senteur is known to have been a very close friend of Jim O'Neill, Ernie Rennie, Dave Calloway and Al Hanson. Curiously though, the 1955 Pacific Section membership directory lists Monsieur de Boue as an independent consultant with an Oak Street address. Never mind that this address corresponds to a Tidewater service station that was once located across the street from the Oceanic offices.
A study of old Pacific Section directories shows that Senteur's addresses and affiliations have changed numerous times over the years. He also appears to have been omitted from a couple of directories, presumably for failing to stay current with his society dues.
Senteur has published several items of considerable interest over the years. An early effort is an E-log, now a valued collector's item, which was widely distributed throughout the Bakersfield oil patch in 1956 by an unknowing Earl Price of 'Price Prints Pronto' fame. Apparently, this log, witnessed by de Boue, is for a well that contains every producing sand on the east side of the San Joaquin Valley, as well as some basalt and schist. Most remarkable though is a thrust fault that cuts midway through the well and beneath which the entire section is repeated upside down.
Senteur de Boue is known to have had several wives. A perusal of past Pacific Section directories shows him at various times paired up with Hillary Clinton, Cindy Crawford, and others. His current marital status is not known. However, he recently has been reported to have been seen around town with a lovely young lady at least 30 or so years his junior, leading to speculation that he may be unattached.
We have it on good authority that before Senteur met his first wife there was an early fling with the infamous "core girl" at the California Well Sample Repository. He may even be the unknown geologist who drew her picture on the bottom of a wooden core box that still resides there. But alas, it was not meant to be, and the core girl reportedly left Senteur for the then curator of the Repository. To be honest though, this freed Senteur up "to play the field" a bit before settling down.
After a long and distinguished career in the Bakersfield oil patch, Monsieur de Boue recently entered into a partnership with entrepreneurial oil finder Frank Cressy to look for dry gas accumulations along the Bakersfield Arch resulting from mantle degassing processes (please see De Boue, 2004 below). Attempts to tap into this resource during the 2008 upturn in gas prices apparently failed to meet with success. However, Bakersfield residents from time to time report foul, methyl mercaptan laced odors emanating from various areas along Rosedale, Truxton and Stockdale Highways, leading to speculations that de Boue and his associates have more gas than they are letting on about.
Monsieur de Boue has published in the Pacific Section Newsletter, and presented posters at Pacific Section-AAPG conventions, most notably at the 2004 and 2015 conventions. To enjoy a few of his articles, please click on the titles below.