Jack Line Oil Fields, Simi Valley, Ca.
Photos by Bruce Petty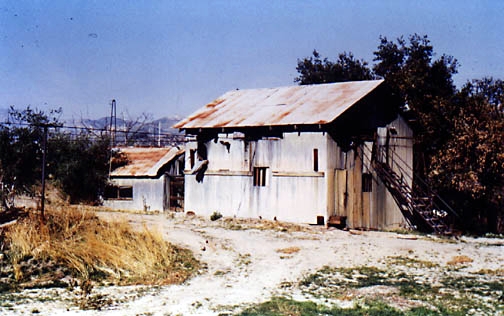 Located in one of the side canyons of the Simi Valley (many years ago) was this Jack Line oil field. Inside this building was the Eccentric Drive Machine to pull the Pump Jacks.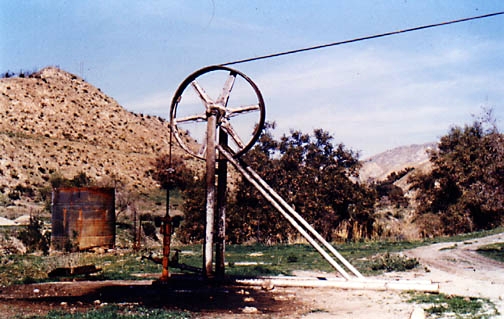 This type of pump called a Circle Jack, was built up from steel pipe, an old flat-belt wheel that carries the wire rope connecting to the pump rod. The small tank in the background was used to hold oil untill a tank truck would take it to the refinery.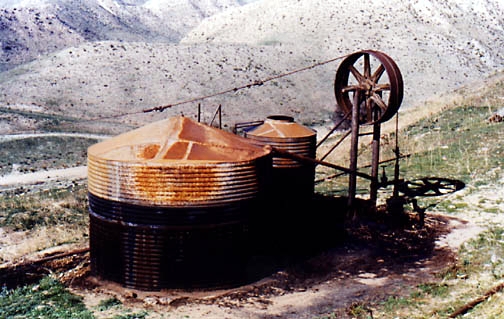 This is the same design of pump as shown in the above picture. The Shackle Line goes downward to the Eccentric Drive Machine building located at the foot of this hill. These tanks were piped up to collect oil from a number of Pump Jacks on the hill.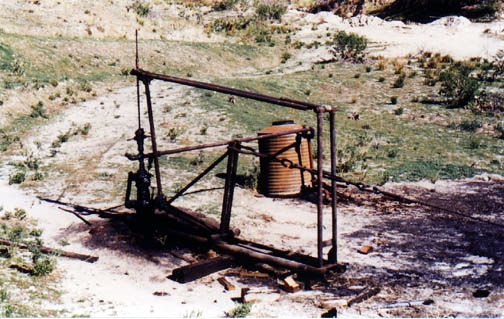 This is what was called a Jensen Oklahoma-type straight-lift Pumping Jack. It was light weight and could be set up quickly in the field. Note the very small tank in the background used for oil storage.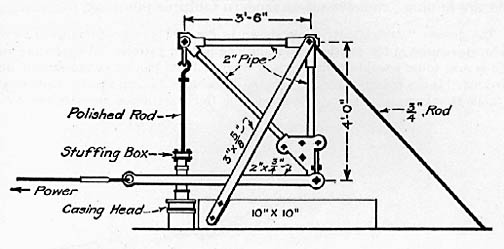 This drawing is the of a common form of a manufactured Triangular Pumping Jack.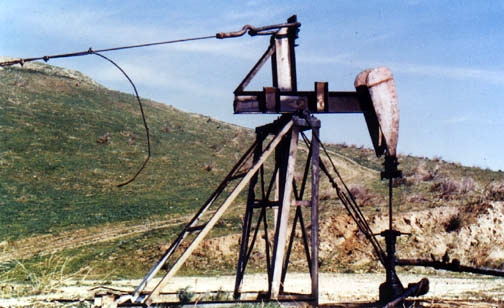 This is why an oil mans junk pile was so important for the never ending supply of iron for things to make.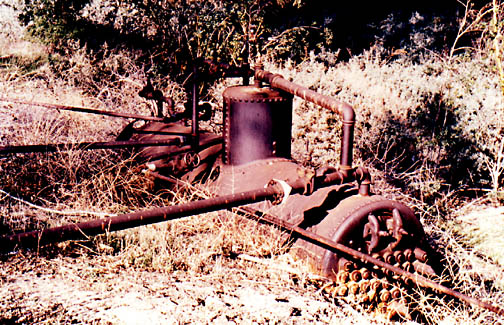 Any sort of tank can be used to hold oil in the field. This tank with the tell-tale dome and pluged tube ends was once a high pressure steam boiler used to power the machinery to drill this fields wells.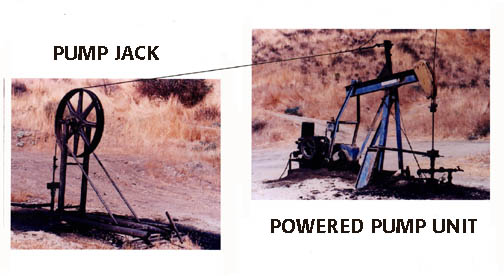 Sometimes one well is used to power another. The powered well uses a one-piston gas engine for power.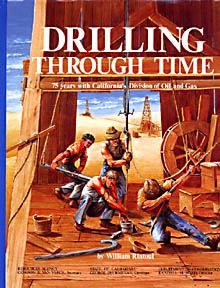 If you like oil history, then may I suggest this fine book "Drilling Through Time" by William Rintoul. Published by the California Department of Conservation, Divison of Oil and Gas. ISBN 0-9627124-0-X
---
NEW California Oil Fields in Color
Guest Page: Manley Oilfield Photos, by Albert Novak
Downtown Los Angeles Oil Bulk Plant.
Jack Line Oil Field at Simi Valley
Back to Early California Oil Industry Page
1/87 Scale Jack Line Oil Field Model
---
For those in High School and may be looking for a career in geology. Montana Tech has one of the few Petroleum Engineering programs left in the US, as well as Mining Engineering. Montana Tech's website is www.mtech.edu and this direct link to Professor Diane Wolfgram PHD, Mining Engineering department's web page.
---